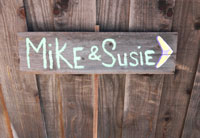 Our venue is in a remote area of the Santa Cruz mountains down some windy roads. The venue owner suggested we make some signs to guide guests once they exit the freeway.
My Dad's house had a wooden fence that was getting torn down last year so I asked the neighbor to save a few slats of the fence for me. The aged wood I thought would come in handy for some signage, which also reminds me a lot of Zelda.
Mike sawed the slats in half and nailed them to wooden garden stakes (~$0.60 each) that we got at the hardware store. Then I painted them with acrylic paints to say "Mike & Susie." I painted on a boomerang to be used as an arrow to indicate which way to go. The boomerang is also used in the invitation so I hoped it would be another cue to guests that it's the right sign to follow.
The nails did not work out well. Once Mike's Dad used the mallet to get them to stick in the ground, the signs fell off. Learning lesson, use screws and a drill instead of nails.