I attend weekly group therapy video calls and I've taken to doodling in my little watercolor sketchbook during them.
I recently bought myself a starter set of 6 QoR high chroma Watercolor paints after seeing a few Youtube artists pimp them and did a little experimenting with them. The above jellyfish painting was the result.
Setup
Here's the exact set of paints I bought. The set comes with 6 tubes.
I don't like to work from tubes (too chaotic and wasteful) so I bought myself this little empty pan set and squeezed the paints out into pans.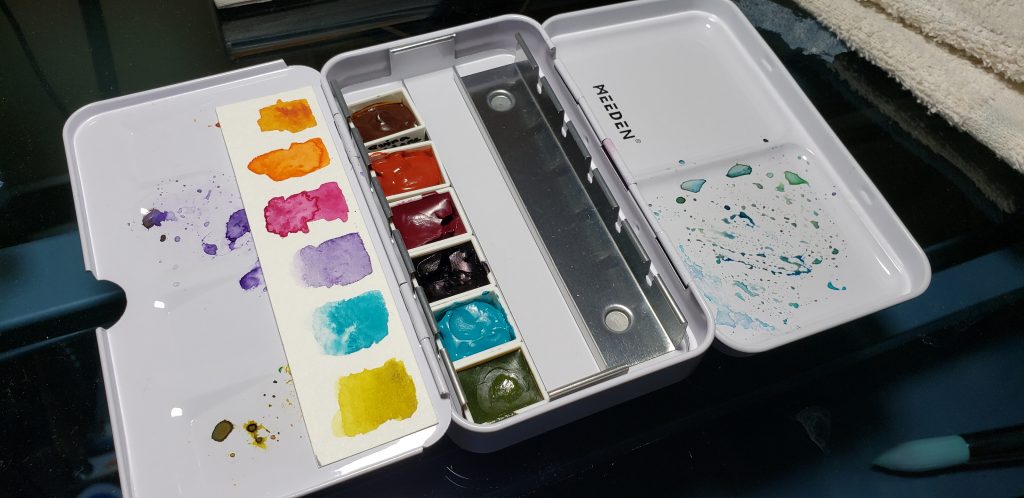 This is something I stupidly never thought you could do. I always thought people who used paint from tubes were either ok with the waste or perfect at estimating how much paint they'd need. It wasn't until I saw Art youtubers like Emily Artful tour their supplies that I learned this was a thing. So I pass on this knowledge to you!
Beware though because apparently not all tube watercolor paints work well in pans. Do research first.
A few (early) conclusions on QoR
With the QoR, there's a ton of pigment in there and it lays on DARK. There is high paint load in these, which is a nice contrast to working with Winsor & Newton watercolor (my usual jam). I feel with the Winsor & Newton pan paints, I have to do several layers of colors like purple, blue or green to get the bright, rich, intense color I want. Which is frustrating if you're like me and like to rely on the lovely bleeding/blending effects of watercolor which can't as easily be done if you have to do it in layers (or maybe I'm just not good at doing it that way).
It also spreads out very fast, which can create some beautiful blooms. I still have some more experimenting to do with it. But this will make them harder to control.
They react well to salt, maybe even more so than Winsor & Newton.
I was also surprised to discover the Cobalt Teal is opaque allowing me to paint light on dark. It felt more like a gouache. I also love the Cobalt Teal and Quinacridone Magenta because these are colors I don't have available in my Winsor & Newton pan set.
Do I like the QoR paints?
YES! I LOVE bright colors so these were the perfect paints for me to expand my collection with.
But I need more practice with them. This jellyfish doodle just doesn't do the paints justice. More experimentation to come.
Do I recommend you buy QoR watercolors?
If you're new to watercolor medium, these are not the paints I would start with. There aren't enough variety of colors here, they're harder to control and lift, and they're pricy. But if you've already gotten your feet wet and are looking to expand your colors or options, these are definitely worth checking out.
Medium: QoR high chroma watercolors, white jelly pen