If you've known me long enough, you probably know I have ADHD (Attention Deficit Hyper Activity Disorder). My ADHD has made my life a challenge in many ways, and one of which is motivation.
This is one of the reasons I am so passionate about gamifying art and supporting the Art RPG community. I see Art RPGs as a fun way to help motivate neurodivergent artists to get past their perfectionism and motivational challenges and get creating again by bribing them with virtual gold, XP, and more.
Recently, I was invited to be interviewed on the ADHD Artist Podcast to talk all about Art RPGs and how they can benefit the ADHD artist community.
I had a lot of fun chatting with the host, Sarah Guise. We talked about Google doodles, disclosing your disability at school and in the workplace, PaperDemon, and Art RPGs. Actually there's a TON more that I feel like we could have talked about. I hope I get the chance to come on again because ADHD is one of those topics that I have passionate opinions on.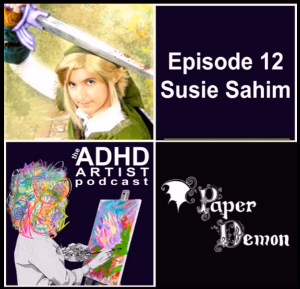 And if you're an artist with ADHD, check out the other episodes available on their podcast, too!