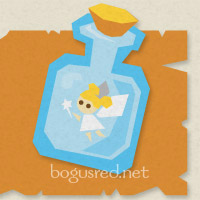 Being a web designer, there was no doubt that Mike and I would have our very own wedding website. You can visit it at ZeldaWedding.com (I was surprised no one else snagged this domain).
The design draws a lot of elements from the Legend of Zelda: The Wind Waker game interface. I loved the papery texture and brightly colored elements that were used and tried to recreate that in the design. One of my favorite elements of the design is this cute little fairy stuck in a bottle. I drew the shapes to be angular so it has more of a paper cut feel.
We included the URL to our website with our invitations so guests could visit and see our registry info. It's not proper etiquette to include your registry information in your invitations but it is ok to include a link to a wedding website. We also included a slide show of our engagement photos there as well as any updates that our guests need to know about.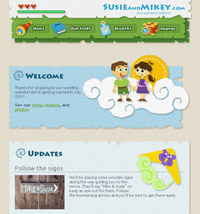 A wedding website is useful for:
before the event:

save the date
registry links
event updates
engagement photos and other pictures
a story of how the couple met
wedding party
accomodation recommendations for out of town guests

after the event:

wedding photos
ask others to email you their photos
big thank you to guests
We'll be updating the site continually over the next couple months. Be sure to 
check it out
.